Aesthetic Crowns
The ever-higher aesthetic requirements towards the colour and shape of natural teeth and crowns (the white aesthetic) is not restricted to them but it is becoming more and more widespread to keep or restore a healthy and pink gum (pink aesthetic). For the dentists of Budapest Dental Clinic, outstanding aesthetics is just as important as preparation that is gentle the teeth. All types of crowns have their own advantages and disadvantages, whether they are made with new or old methods. After a thorough dental examination, we make an effort to recommend the most fitting type of crown to our patients, based on their needs and dental status.
Metal-free ceramic crowns – complete porcelain crowns
Around the area of the front teeth, aesthetics is of the utmost importance. A porcelain shell without framework lets natural light through, therefore has the most excellent aesthetic results. Hiding flaws in shape, aesthetic and colour correction are attainable without losing much of your teeth.
Complete porcelain crowns are the innovations of modern aesthetic dentistry. In opposition to traditional crowns, which contain a metal frame, the complete porcelain crowns do not contain metal at all.
Porcelain crowns are also somewhat weaker, because they lack the metal frame, but all the more beautiful aesthetically. Light passes through the layers of the porcelain freely, it does not meet and obstacle, which decreased the transparency of traditional crowns.
Since crowns containing metal frame are a bit more vulnerable, they are only recommended for the area of incisors, because they are not suitable to bear the increased burden in the chewing area.
Complete porcelain crown – advantages and disadvantages:
| advantages | disadvantages |
| --- | --- |
| perfect aesthetic effect | only solo crown can be made |
| a perfect replica of the own natural tooth enamel can be prepared | more vulnerable, because it has no frame |
| no grey margin of gum | not recommended for sportsmen |
| no metal allergy | shorter life span |
Preparing the stump under complete porcelain crowns is only possible with shoulder-crown preparation technique. The established shoulder margin provides the surface suitable for the margin of the crown to lean against. Thanks to the shoulder preparation, gum tissue around teeth like this remains protected, intact and healthy.
There are two great technologies in Budapest Dental clinic for the preparation for complete porcelain "jacket" crowns:
Noritake® – porcelain "Jacket" crown:
synthetic ceramic crown

its solidness is also close to that of natural teeth, that is why it is often called "soft ceramic crown"

not recommended in case of heavier employment than usual (e.g. sportsmen, wind instrument players)

not suitable for covering grey teeth

perfectly transparent, aesthetic result: * * * * *
IPS Empress® – "Jacket" porcelain crown
its base is solid pressed ceramic frame, the delicate porcelain cover is built on that

bears heavier employment

applicable to medium grey teeth

less transparent, aesthetic result: *
Metal-free ceramic crowns – zirconium-oxide crowns
Excellent aesthetics, extremely strong hold and the most precise closure, even in the area of masticatories. The most modern computer and scanning technology - CAD-CAM (link: 4.43). A metal-free method to cover grey teeth. Ideal for those with metal allergy. It is suitable for tooth replacement, even in the case of several adjacent gaps.
Zirconium – dioxide based aesthetic crowns: high technology in dentistry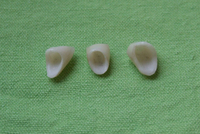 The zirconium-oxide based crowns are the latest innovation of modern aesthetic dentistry.
The strong but grey metal framework of traditional metal ceramic crowns raised many problems:
increasing number of metal allergy cases

insufficient aesthetic end result: the metal frame of traditional metal ceramic crowns does not let light through, therefore the transparency of these crowns differs from that of natural teeth
To solve the above mentioned problems, zirconium dioxide based frames have been developed. A frame was necessary which is strong as a metal one but does not have the colour of metal, nor is made of it.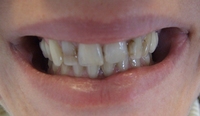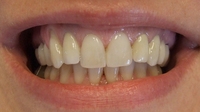 About the zirconium dioxide crown:
the zirconium – dioxide frame is strong, even stronger than traditional metal frames, therefore provides a strong hold

it does not contain metal nor it coloured metal: the frame itself is already white or tooth coloured

the covering ceramic provides perfect aesthetic effect on a tooth coloured frame

does not let light through, so it is perfectly suitable for covering grey teeth

this is the only metal-free type of crown that is suitable not only for solo crowns, but also for preparing longer bridges to replace several gaps
Encarving zirconium-oxide frames does not happen with traditional methods. With the so-called CAD/CAM computer technique, extremely precise frames can be manufactured.
Of course, a zirconium crown can only be prepared with shoulder crown preparation, to ensure the perfect security of the periodontium. You do not have to be cautious about gum recession or inflammation, as in the case of traditional crowns.
Zirconium-oxide crowns are perfectly aesthetic, extremely precise and long-lasting, and above all, do not contain metal, therefore they are applicable in the event of metal allergy.